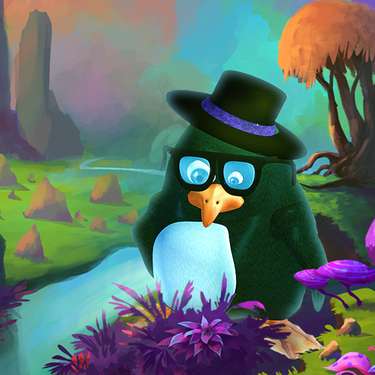 Fantasy Mosaics 29 - Alien Planet
You can only play this game with:
Windows 10Windows 7Windows 8Windows 8.1
Fantasy Mosaics 29 - Alien Planet is a puzzle game from another world! Solve colorful nonograms as you explore an alien planet.
Video & Screenshots
Explore the home planet of Lady Una and solve colorful new puzzles.
Fantasy Mosaics 29 - Alien Planet is a puzzle game that's out of this world! Join Lady Una and her husband Aaron as they visit her home planet. Explore the alien landscape and solve colorful nonogram puzzles. Unlock secret colors native to the exciting new world. Blast off into fun with Fantasy Mosaics 29 - Alien Planet.
unlock secret hidden colors
solve colorful new mosaic puzzles
explore an alien landscape
use logic to solve challenges and find solutions
Enjoy challenging mosaic puzzles while exploring a beautiful museum!

Discover a new way to solve mosaic puzzles and immerse yourself in an exciting new world!

What does Santa have in store for the holidays? Solve his wonderful mosaic puzzles to find out!

Help Penny meet her new friend while solving colorful mosaic puzzles.

Explore the home planet of Lady Una and solve colorful new puzzles.

Join the Penguins as they solve vibrant mosaic puzzles with a new gameplay twist - unlocking secret colors.

Follow the penguins into the magical world of logic and fairytales.

Help the penguins decorate the landscape for a wedding ceremony.

Join the penguins on a journey to a deserted tropical island, where promises of great treasure await.

The penguins are back, and we couldn't be happier! In this adventure, they're joined by some friendly forest folk.

Join your favorite penguin family on a fun trip to the South Pole, and solve new, more colorful mosaics!

Follow Mrs. Penguin to a movie studio filled with pixel art puzzles, and set the scene for some hard earned relaxation!

The penguins are back! Join them in a mosaic quest to the edge of the world.

Discover a whole new world of mosaic puzzles more colorful than ever before!

Ready for a new array of color? This griddler classic is sure to expand your palette!

Build your own wonderland as you stay sharp and solve your way through countless colorful mosaics!

Fantasy Mosaics 15 - Ancient Land has oodles of awesome colorful puzzle challenges just for you!

Fantasy Mosaics 14 - The Fourth Color adds colorful complexity to this excellent puzzle series!

Play Fantasy Mosaics 13 - Unexpected Visitor and get ready to meet a very special guest!

Play Fantasy Mosaics 12 - Parallel Universes and satisfy your craving for challenging mosaic puzzles!

Fantasy Mosaics 11 - Fleeing From Dinosaurs continues the prehistoric story of pixel art puzzling!

Fantasy Mosaics 10 - Time Travel is the latest and greatest adventure in this awesome art puzzle series.

Delve in Fantasy Mosaics 9 - Portal in the Woods and reveal colorful images hidden in the forest!

Play Fantasy Mosaics 8 - New Adventure and travel to a fantasy forest full of fill and cross puzzles.

Play Fantasy Mosaics 7 and join the penguin family on a new exciting mosaics journey!

Join Fantasy Mosaics 6 - Into the Unknown, a puzzle journey to discover alien places. Train your brain!

Discover Fantasy Mosaics 5, a challenging puzzle game, and enjoy an amazing mosaics puzzle collection!

Play Fantasy Mosaics 4 - Art of Color, a colorful mosaics game, and enjoy tons of puzzle challenges!

Enjoy Fantasy Mosaics and restore a wonderful fantasy garden by completing nonogram puzzles!