Who doesn't like to travel? We do for sure, and we'd like to give you inspiration for a quick and fun getaway. Read more to learn how easy it can be!

Travel affords us the opportunity to expand our horizons and explore this beautiful, wonderful planet of ours. But with so many tantalizing destinations to choose from, where does one go? How does one choose? And do we have to travel far and wide to enjoy a change of scenery? Not at all.
When I get the itch to travel I think of places I'd like to live, where I can pretend to be a "local." That could be a quick day trip or weekend getaway to Portland, Oregon or Vancouver, BC. Amtrak has service from Seattle to each of those cities, which are no more than four hours away by train. (I haven't owned a car in a very long time!)
Portland, Oregon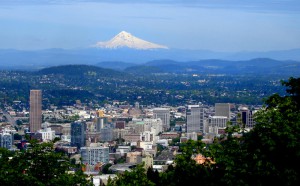 A personal favorite fun getaway is to Portland, Oregon – the "Rose City." Picturesque, Portland has a waterfront along the Willamette River and Mt. Hood in the background to the east. Food trucks abound here to offer visitors a taste of the cuisines of many cultures. You can also find fine dining and excellent coffee, plus great craft beer among the 53 microbreweries in the city!
I can explore Portland easily by walking or by taking its well-thought-out public transportation.
A highlight of any visit to Portland is seeing the International Rose Test Garden, where new varieties are introduced and where Gold Medal Roses have been showcased for 85 years. So beautiful!
Vancouver, British Columbia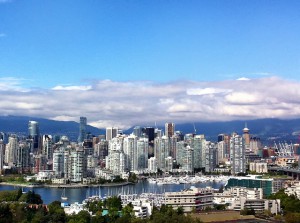 My other favorite neighbor to visit is breathtaking Vancouver on the southwest coast of the Canadian Province of British Columbia. Offering gorgeous scenery, Vancouver is a place I can get lost in – on purpose. It's always a fun getaway and I'll use any excuse to go.
There is so much to see and do…from the Harbour to the stunning Lions Gate Bridge, through Stanley Park to English Bay and all along the seawall…to False Creek and Granville Island with its bustling market. I never want for something to do in this amazing city.
There's also Gastown, the oldest neighborhood in the city, where I like to experience the many cafés, bistros, shops and galleries. It's a fun area to explore and I'm always entertained watching the steam-powered clock on the corner of Cambie and Water Streets.
And while you've got the traveling spirit, why not check out the many great travel games where you can escape and have a fun getaway right at home? Come to think of it, why not start with Big City Adventure™ – Vancouver? Be sure and tell us your favorites too. Bon voyage!  :)
Sharing Your Travel Adventures
Now that I've shared two of my favorite fun getaways, where do you like to travel? Do you have a favorite close-to-home fun getaway? We'd love to hear from you on our Facebook fan page or on our Google+ page!