We have exciting news today for GameHouse fans who enjoy social gaming! Today, Facebook announced a creative partnership with us to test Facebook Credits on GameHouse.com, which means Collapse! Blast and UNO Boost players can now switch back and forth between Facebook and GameHouse.com with continuity in scores and data.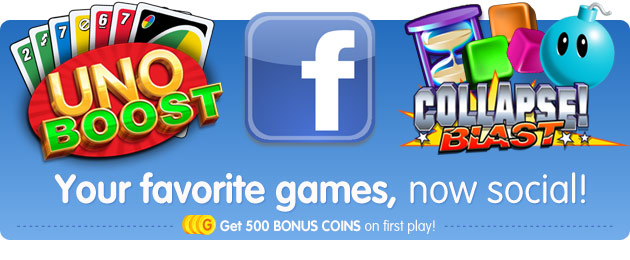 We truly believe that every game will be social someday, whether it's played on Facebook, Google+, or at GameHouse.com — where our catalog of more than 3,000 casual games including series such as Mortimer Beckett, Delicious, and Bejeweled will be played by millions of people every day. We have some exciting new social games lined up with the upcoming release of Bayou Blast and be prepared for some other very cool games in 2012.
But for now, please join us in our excitement by playing Collapse! Blast and UNO Boost at GameHouse.com and let us know what you think! As a special bonus, you'll get 500 GameHouse Coins and a game badge the first time you play each of these all-new games.