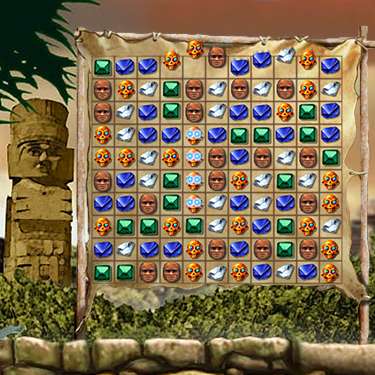 Jewel Quest
You can only play this game with:
Windows 10Windows 7Windows 8Windows 8.1
Play Jewel Quest whenever you want! Extended and challenging new puzzles!
Video & Screenshots
Expore the old ruins of the Maya civilization in Jewel Quest. Get set for the adventure!
Go back in time to the musterious civilization of the Mayas. Discover precious jewels and coins and use these to advance to the next level. In this unique new take on the classic matching game, rearrange valuable relics to turn sand tiles into gold. As you venture deeper into the jungle, you will encounter increasingly difficult puzzles containing secret twists, cursed items, and buried artifacts. Find your jewels, today!
Extended and challenging new puzzles!
No adverts!
Play in full screen mode!
Save your games!
Your favorite match 3 adventurers Rupert and Emma are back... And unlike you've ever seen them before!

Search for the most coveted of all jewel boards in Jewel Quest Mysteries - The Oracle of Ur Platinum Edition.

Live the adventure of a lifetime with the all-new Jewel Quest - The Sapphire Dragon Platinum Edition.

Join Emma and explore the ruins of Greece in Jewel Quest Mysteries - The Seventh Gate Platinum Edition.

Search for an amazing gem with Jewel Quest - The Sleepless Star Platinum Edition, a new follow-up in the series.

Unfold the riveting story behind Jewel Quest Mysteries 2 - Trail of the Midnight Heart!

Hit the trail of discovery with Rupert once again in the sensational Jewel Quest Heritage Platinum Edition!

Rupert and Emma are back for an exciting new adventure in the innovative Jewel Quest 3!

Don't get lost while discovering what happened to Emma's husband in Jewel Quest Solitaire 2!

Join a new and exciting expedition filled with adventure, romance and betrayal in Jewel Quest II.

Find fortune and glory on your quest through the South American jungle in Jewel Quest Solitaire!