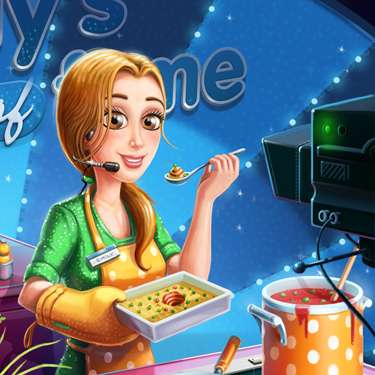 Delicious - Emily's Taste of Fame
You can only play this game with:
Windows 10Windows 7Windows 8Windows 8.1Windows VistaWindows XP
Voted TOP TIME MANAGEMENT GAME at the 2010 Great Games Awards!
Video & Screenshots
Emily's back and ready for prime time!
Voted TOP TIME MANAGEMENT GAME at the 2010 Great Games Awards!

Emily's back and ready for prime time in Delicious - Emily's Taste of Fame, the latest chapter in the hugely popular Delicious series of games. Emily's trip to Hollywood and her new cooking show, "Emily's Taste of Fame\comes to a sudden halt when her trusty car breaks down in a small roadside town. To make matters worse, Emily has no money for repairs. Fortunately, Snuggford is full of culinary crises and Emily always leaps at an opportunity to roll up her sleeves. Help her get on the road again by whipping up scrumptious meals and serving them to a huge variety of customers, both familiar and new, in loads of challenging levels. And, just like in real life, every level features an unexpected event that's sure to keep you on your toes! Will Emily make it in the big time? Or, are there more important things than fame and fortune? See why millions of players have already fallen in love with Emily and her Delicious adventures, or play the full unlimited version and enjoy a rich menu of love, friendship, joy, drama, and addictive action. Join Emily for the adventure of her life today!
Serve customers in five all-new locations
Enjoy an engrossing, in-game storyline
Tackle special surprise events in each level
Whip-up a huge variety of dishes, desserts, drinks, and more
Like to play another game from the Delicious series?
Travel through the American heartland on a nostalgic trip along Route 66 with Emily and the O'Malley family.

Join Emily on a comical time management adventure as she attempts to solve the age-old question: Who does it better? Moms or Dads?

Join Emily for a very special chapter in her life. One thing's for sure - her family will never be the same again...

All aboard the Miracle Express! Join Emily on a heartfelt adventure to find Santa.

Walk down memory lane with Emily, and meet all new family members along with her adorable younger self!

Delicious - Emily's Hopes and Fears Platinum Edition follows Patrick on a journey to save Paige's life!

Discover Delicious - Emily's Home Sweet Home Platinum Edition and help Emily and Patrick fix up their dream house!

Play Delicious - Emily's New Beginning Platinum Edition and fall in love with a beautiful new family member!

Delicious Winter Edition, a festive game for the born multi-tasker! Serve delicious Christmas treats.