An adventure of epic proportions awaits you in 12 Labours of Hercules VII – Fleecing the Fleece! A legendary treasure resides in Colchis: the Golden Fleece. Obtaining this precious artifact requires nothing short of legendary help. Hop aboard with Jason and Hercules as they set sail for what promises to be a grand journey filled with trial and golden humor.
Epic Heroes, Epic Journey
A man of brawn, Jason is tasked to obtain the Golden Fleece by the cunning Pelias. However, he can't accomplish this task on his own. Good friend and legendary hero Hercules is the perfect companion! Together, they'll build a glorious ship – the Argo – and guide it to their destination. But every sea has its storms, and trouble is quick to follow them aboard.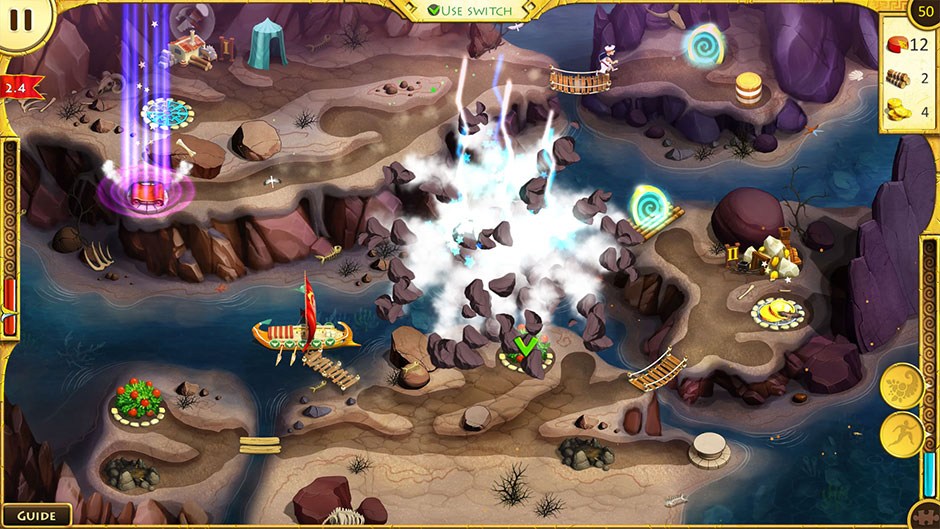 12 Labours of Hercules VII – Fleecing the Fleece is a strategy game with strong time management ties. How strong is up to you, though. Boasting 3 difficulty modes, how hard the trials are is your choice. Kick back with Relaxed mode, take your time with Casual mode, or take on legendary challenges with Expert mode. Or pick a combination! You can change the game's difficulty at any time.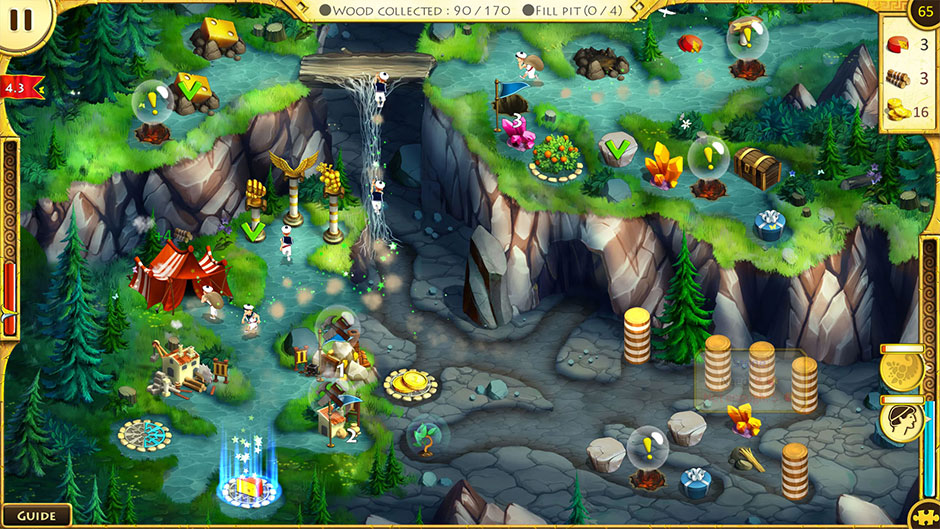 Play your way through 56 challenging levels. Each level contains a unique set of objectives, further complimented by a unique level layout rendered in beautiful artistic graphics. Your quest will take you through 5 unique and colorful islands, featuring enemies and challenges that can be found only in these locations. No two levels are alike!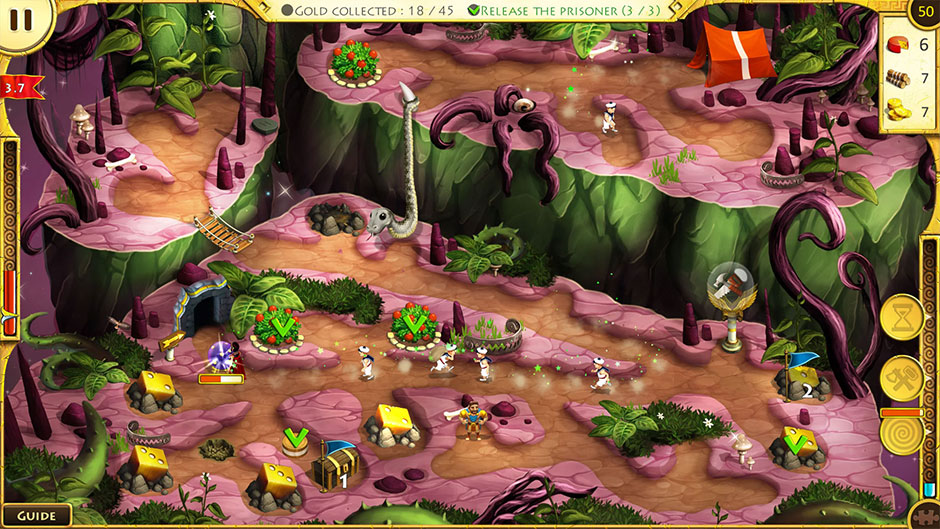 Gold for the Gods
Each level you play contains more than just a unique part of the story. For every level you complete in Gold Time – the highest score – you'll reveal part of the magical Turtle Castle. This gorgeous palace resides in the heavens, built on the back of a mythical turtle.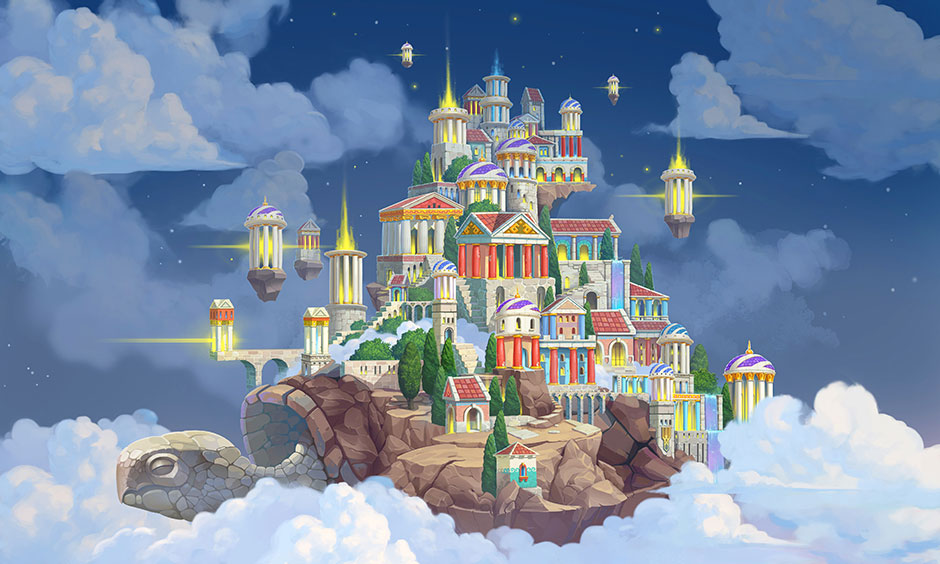 Furthermore, go for the gold by comparing your scores! Each completed level will give you a score. Try to best your own or your friends', both per level and overall!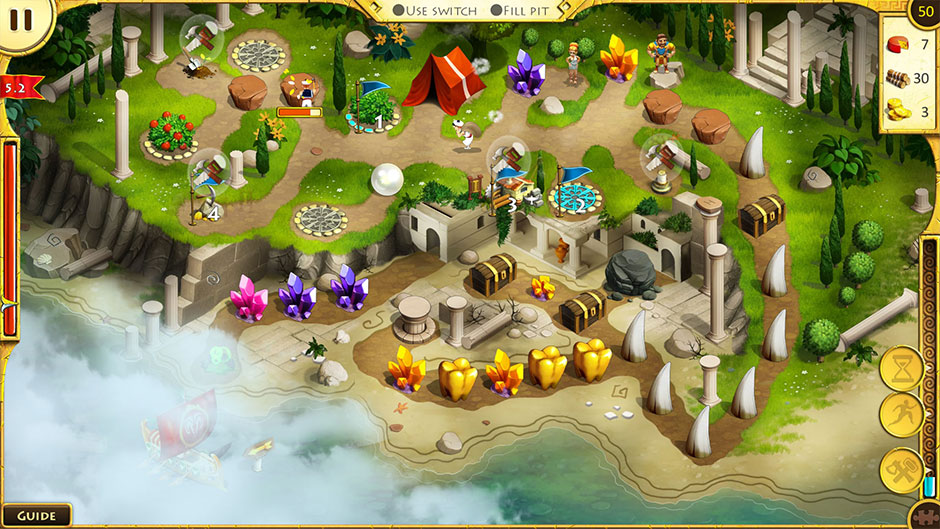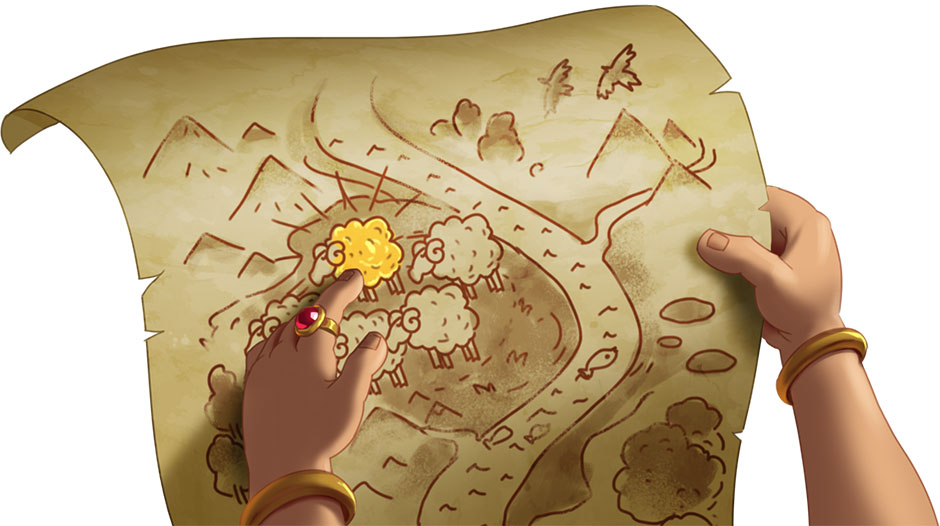 Expand your collection of treasures further still with 12 Labours of Hercules VII – Fleecing the Fleece Platinum Edition's extra content, such as high quality wallpapers and even integrated level-per-level guides. There's no need to worry about losing your way with a walkthrough in hand!
All Aboard at GameHouse!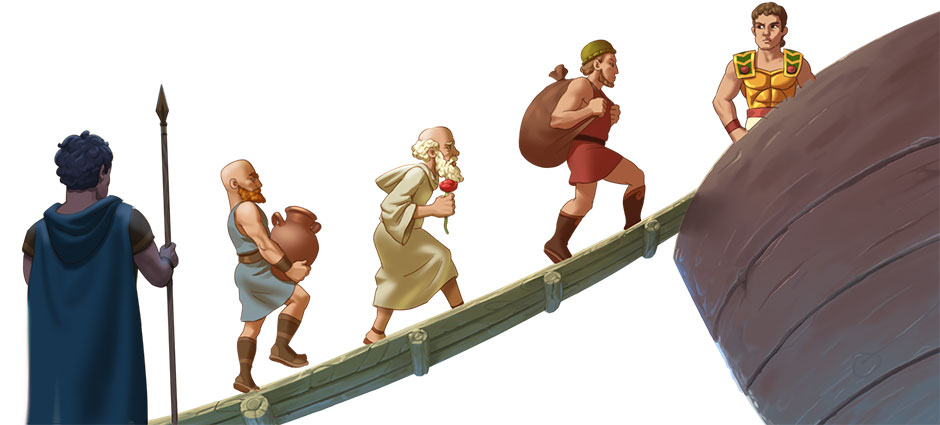 So what are you waiting for?
Climb aboard with 12 Labours of Hercules VII – Fleecing the Fleece Platinum Edition today!
A Legendary Series
Want even more 12 Labours of Hercules? You're in luck! The adventures of Hercules began long before the quest for the Golden Fleece! Try one of the other games from the series by clicking on their title below, or simply read more about them here!
12 Labours of Hercules is the action-based time management game where it all began! Hercules is shocked to learn his beloved wife has been kidnapped by none other than Hades. With the path to the underworld destroyed, a challenging journey awaits!
12 Labours of Hercules II – The Cretan Bull continues the story of Hercules' great quests. This time, it's to tame the infamous bull of Greek mythology. It's time management mayhem in colorful, comic-book style splendor!
12 Labours of Hercules III – Girl Power flips the story on its head. This time, it's Hercules that goes missing, and Megara will be the one to save him! But not even the toughest obstacles are a match for a woman's will. Show them we can do it in this strategic time management adventure!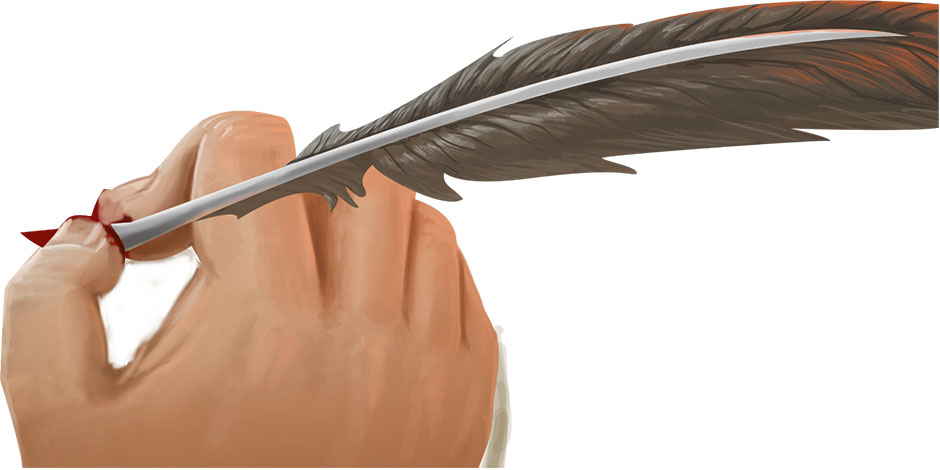 Or, enjoy the trilogy with the 12 Labours of Hercules Super Pack, featuring games I – III!
12 Labours of Hercules IV – Mother Nature Platinum Edition pits Hercules and Megara against the Gods themselves! Striking the earth with a vengeance, it'll be up to this power couple to turn barren wastelands back into the beautiful forests and grasslands from before. Experience settings more beautiful than ever in the fourth title of the strategy series.
12 Labours of Hercules V – Kids of Hellas Platinum Edition is the fifth adventure in which Hercules must save Greece. Ares, the Greek god of war, has asked Hercules to lead his armies. When he refuses, Ares casts a curse upon the children of Hellas. Can you overcome the obstacles of a vengeful god of war and rescue the kids?
12 Labours of Hercules VI – Race for Olympus Platinum Edition features a particularly alarming story. Alarm bells start ringing when Zeus himself goes missing, and it would seem he's been abducted! Hercules and Megara immediately set out to find him in an adventure that promises to take them to lands they've never visited before.
Treat yourself like the god or goddess you are and embark on a journey of 12 Labours of Hercules today!