Merry Christmas from all of us here at GameHouse!

This year, we decided to do something different. Instead of celebrating the twelve days of Christmas starting December 25th, we'll be counting down every day for twelve days until it's Christmas Eve. Each day, we'll be featuring an exciting holiday title available here at GameHouse. While some are nostalgic hand-me-downs, others are brand new – and all are filled to the brim with holiday cheer. So sit back, grab a red pen and a cup of hot cocoa, and start crossing off the days until Christmas!

Day 1 – Day 2 – Day 3 – Day 4 – Day 5 – Day 6 – Day 7 – Day 8 – Day 9 – Day 10 – Day 11 – Day 12
Day 1: Delicious – Emily's Holiday Season
(Time Management)
It's winter in Snuggford and Emily is preparing for the family holiday party at a cozy lodge. While making arrangements, the new owner quickly recognizes her skills and hires her to run the place. Soon, romance fills the air as two suitors vie for Emily's attention. Whom will she choose to fall in love with?
With 5 locations, 50 events, and festive upgrades, Emily will brighten up your holiday with heartwarming fun! Try the free trial version of Delicious – Emily's Holiday Season or download the full-unlimited version!
Day 2: Christmas Eve – Midnight's Call Platinum Edition
(Hidden Object)
The same bad dream is continually haunting you; the beckoning of Midnight's Call. Each time the nightmare occurs, you watch your sister slip through the ice, sinking out of reach. It's a haunting memory that can't be forgotten – but when the clock strikes 12 one Christmas Eve, everything is about to change. Can you wake from the nightmare? Rescue the holiday spirit and save your sister from an alternate universe covered in snow.
Now available at GameHouse, play Christmas Eve – Midnight's Call Platinum Edition today!
Day 3: Toy Factory
(Time Management)
Santa Claus is usually the one to get the credit for all the Christmas toys, but it turns out it's all thanks to talented Mr. Joy-Joy. After leaving a garage full of toys to his niece, Wilma, it's now her turn to fulfill the family legacy! Go from small shop to holiday mega-factory as you work to not only save Christmas, but make it the best one yet.
Toy Factory is an instant holiday classic, and features dozens of fast-paced levels and challenging gameplay befitting any time management veteran.
Day 4: Christmas Griddlers – Journey to Santa
(Puzzle)
Get ready to pay Santa Claus a visit. Fans of mosaic and nonogram puzzles are about to find a dose of holiday cheer. Use logic to determine patterns on the board, then fill in and cross off squares until you reveal the hidden image! Unlock trophies and rewards by completing challenges. With over 100 unique puzzles for you to solve, it'll be Christmas Eve in no time! Low on time? The pick-up-and-go nature of this game lets you have fun, even when you've only got a moment to spare.
With 6 different locations to unlock, indulge in the festive holiday atmosphere with Christmas Griddlers – Journey to Santa today!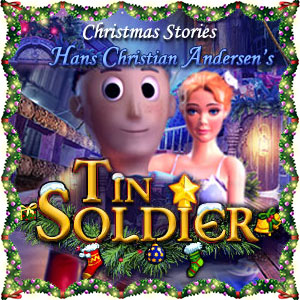 Day 5: Christmas Stories – Hans Christian Andersen's Tin Soldier Platinum Edition (Hidden Object)
If you're looking for a holiday hidden object adventure, we've got a tough case for you to crack. A vengeful baron now possesses the Rat King's wand. With it, he's been wreaking havoc – including turning people into toys! Join forces with the Nutcracker and the Tin Soldier as you attempt to put an end to the baron's cruel games. Collect presents along the way and unlock extras as you go, including bonus gameplay and screensavers.
Experience the classic tale of Christmas Stories – Hans Christian Andersen's Tin Soldier Platinum Edition – including an integrated strategy guide for when the trail goes cold.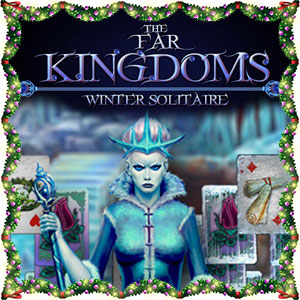 Day 6: The Far Kingdoms Winter Solitaire
(Solitaire)
A bitter cold is encroaching from the north. The Ice Queen has awoken from her 1,000 year slumber, and is bent on revenge! Aid the Princess Ariana as she travels through the frigid cold in a bid to save the kingdom from eternal winter. Utilize magical cards as you use your solitaire skills to channel their power. Solve hidden object trials and meet helpful characters along the way. Only together can you overcome the Queen's trials and save the land from the Ice Queen's wrath.
Play The Far Kingdoms Winter Solitaire – a game that beautifully captures the winter season.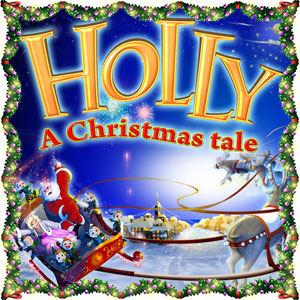 Day 7: Holly – A Christmas Tale
(Hidden Object)

The night before Christmas is a bit restless for everyone, but even more so for Holly! As she dreams of helping Santa deliver toys around the globe, she begins to wonder if it's really a dream. Embrace the spirit of the season as you aid Santa in his nightlong quest to deliver joy to the world. Help Santa find what he needs as he makes his rounds. Pick out specific toys from troves of playthings and spot the differences between right and wrong items.
Play Holly – A Christmas Tale and discover 36 magical levels and 10 wonderful mini-games that will fill you with Yuletide cheer.
Day 8: Chicken Invaders 5 – Christmas Edition
(Arcade)
Eggnog is a holiday staple, but perhaps that's exactly what has pushed an army of intergalactic chickens to the edge. Invading again in a new holiday-themed arcade shooter, this promises to be anything but a silent night. Take on waves of space fowl, armed to the beaks with holiday-variant weapons and apparel. Christmas chickens, gingerbread men, giant space snowmen… It's the peak of winter warfare.
Defend 12 galactic star systems from the fowl invaders in Chicken Invaders 5 – Christmas Edition.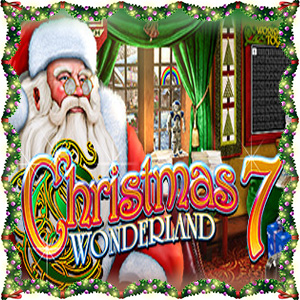 Day 9: Christmas Wonderland 7
(Hidden Object)
For those wishing to relive the annual excitement of Santa's arrival, you need look no further. From putting up the Christmas decorations to finding the perfect gifts, you'll find yourself filled with warm cheer. Visit Santa's Candyland Grotto, baby reindeer, and nativity displays with the family. With 50 levels of gameplay to explore, this holiday hidden object game is sure to put a twinkle in your eye and nostalgia in your heart.
Rediscover the timeless magic of Christmas with Christmas Wonderland 7 today!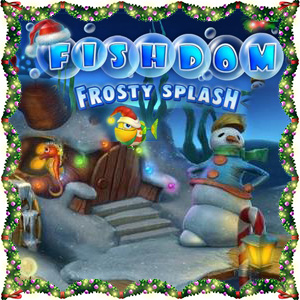 Day 10: Fishdom – Frosty Splash
(Match 3)
Do you have any crabby relatives who visit during the holidays? Take a break from bah humbug and enjoy the holidays with a different kind of crab. Experience the joy of this aquatic Match 3 adventure. Design your own festive fish tanks with nearly 100 winter-themed items. With unlimited tanks to design, the fun promises to be endless! Relax, or race against the clock in the two game modes. With endless replay value and possibilities, this promises to be the gift that keeps on giving.
Experience the thrill of Fishdom – Frosty Splash, the sequel to the critically-acclaimed Fishdom.
Day 11: Bubble Shooter Adventures – Christmas Edition
(Action)
Christmas is nearly upon us, and it's exciting enough to make you burst – bubbles! Clear the way for Santa's sleigh in this arcade-style bubble shooter. Winter-themed bubbles, festive music, and cheerful sound effects are delivered straight from Santa's bag with abundance. With easy-to-learn gameplay, pick up the game on the go, or take a much-needed break – there's always time to play!
Treat yourself to the on-the-go Bubble Shooter Adventures – Christmas Edition today.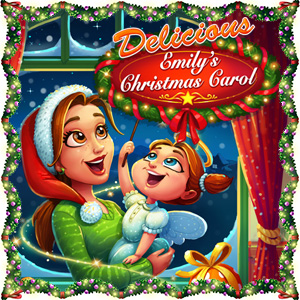 Day 12: Delicious – Emily's Christmas Carol Platinum Edition
(Time Management)
It's Christmas Eve, and no Christmas Eve would be complete without a Christmas carol! Join Emily and the family as they embark on a holiday journey turned unexpected adventure. Take a trip on The Miracle Express, visit Holly's Reindeer Farm, help out in a whimsical Toy Shop and even visit Santa's Home! It's a festive adventure featuring 92 levels spread across 6 delightful locations. Will Paige land the part she wants in the Christmas play? Will Evelyn reveal why she doesn't like Christmas? Will Emily finally get a chance to settle down and relax for the holidays?
It's one of the most magical holiday seasons yet! Settle in for the festivities. Play Delicious – Emily's Christmas Carol Platinum Edition and find out for yourself today!

Do you have a favorite Christmas game? Let us know in the comments!