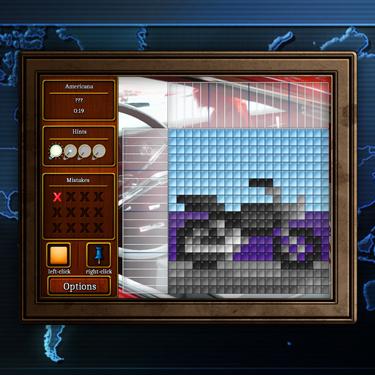 World Mosaics 7
You can only play this game with:
Windows 10Windows 7Windows 8Windows 8.1Windows VistaWindows XP
World Mosaics 7 is another fantastic game in the puzzle series! Travel back in time for a secret mission to catch a rogue agent.
Video & Screenshots
Discover World Mosaics 7, a secretive puzzle game that calls for detective skills!
Play World Mosaics 7, an intriguing puzzle game! Certain anomalies have occurred since the sand from the Hourglass of Time disappeared. You discover the theft is an inside job, and as a result have to keep your findings as much a secret as possible. Travel back in time to find clues, solve puzzles, and solve the case. Will you succeed? Find out in World Mosaics 7!
discover hours of puzzle fun with 100 unique levels
travel to interesting eras and meet fascinating people
try to earn 3 stars for every level
finish the game to unlock 150 bonus levels
Solve the puzzling case of the missing stories stolen from the Halls of Fiction!

Stop a cat burglar from using time and space for his personal gain in World Mosaics 6.

Go on a journey through your favorite childhood fables in World Mosaics 3 - Fairy Tales.

Witness history through the puzzle-solving and time traveling experience of World Mosaics 2!