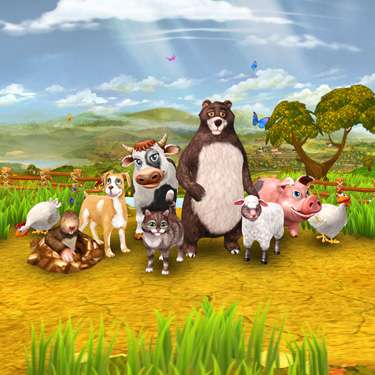 Farm Frenzy 4
You can only play this game with:
Windows 10Windows 7Windows 8Windows 8.1
Farm Frenzy 4 is an all-new sequel that you simply must play! The popular farm series gets a makeover. See for yourself!
Video & Screenshots
In Farm Frenzy 4, a brand-new sequel, the popular farm series gets a makeover!
Play Farm Frenzy 4, a brand-new sequel, and discover a new and improved game in the popular farm series! Grandma and grandpa need your help to save their farm from foreclosure. They bought a mechanical aide to teach you the ropes on the farm and to guide you whenever necessary. There's no time to waste in Farm Frenzy 4!
save the farm in this action-packed management game
play 90 challenging levels in four different worlds
discover new animals, the combo multiplier meter, and more new features
earn achievements for purchasing five dogs in one level, for selling fifteen bears, and much more
Play Farm Frenzy - Heave Ho and join your friend Scarlett on this tropical farming adventure!

Farm Frenzy - Hurricane Season is a whirlwind of fun! Manage a farm in the wake of a hurricane.

Drop your battle-axe and pick up a plow in Farm Frenzy - Viking Heroes, a spirited challenge.

Feed the heroic soldiers of the Roman Empire as they go to war in Farm Frenzy - Ancient Rome.

Take to the sea with Scarlett and run an aquatic farm in Farm Frenzy - Gone Fishing.

Save an animal reservation from closure in the all-new Farm Frenzy 3 - Madagascar!

Feed the astronauts in Farm Frenzy 3 - Russian Roulette, an adventure that's out of this world!

Travel the world on a frenzy of farming fun in Farm Frenzy 3, the latest game in the hit series!

The sequel Farm Frenzy 2 will surely give you a new-found appreciation for Old MacDonald!

Return to the farm for all-new fun in the latest edition of the popular Farm Frenzy series.