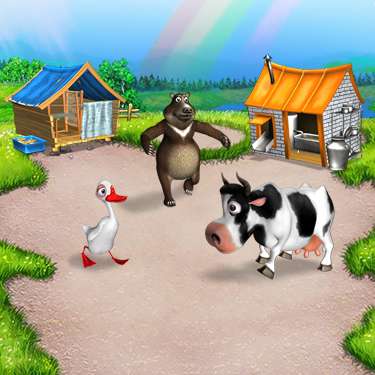 Farm Frenzy
You can only play this game with:
Windows 7Windows 8Windows 8.1Windows VistaWindows XP
Think life in the big city is a frenzy?
Video & Screenshots
Sow the Seeds of Fun
Think life in the big city is a frenzy? Wait until you see what life in the country is like on this action-packed farm! Keep a variety of animals well-fed (and safe from bears) and gather the goods they produce to sell at the market in level after level of fast fun. Use your earnings to upgrade your farm and increase your productivity. Add a bakery to create scrumptious cupcakes, a dairy to turn your milk into fine cheeses, a spinnery to make fabulous fabrics from wool, and more! Featuring delightful graphics, innovative gameplay, and more than 45 challenging levels, sow the seeds of fun in Farm Frenzy today!
Unlimited Play
Over 45 Challenging Levels
Ducks, Sheep, Cows, and More
Nine Different Products to Produce
Building Upgrades
Play Farm Frenzy - Heave Ho and join your friend Scarlett on this tropical farming adventure!

Farm Frenzy - Hurricane Season is a whirlwind of fun! Manage a farm in the wake of a hurricane.

Drop your battle-axe and pick up a plow in Farm Frenzy - Viking Heroes, a spirited challenge.

Feed the heroic soldiers of the Roman Empire as they go to war in Farm Frenzy - Ancient Rome.

Take to the sea with Scarlett and run an aquatic farm in Farm Frenzy - Gone Fishing.

Save an animal reservation from closure in the all-new Farm Frenzy 3 - Madagascar!

Feed the astronauts in Farm Frenzy 3 - Russian Roulette, an adventure that's out of this world!

Travel the world on a frenzy of farming fun in Farm Frenzy 3, the latest game in the hit series!

The sequel Farm Frenzy 2 will surely give you a new-found appreciation for Old MacDonald!

Return to the farm for all-new fun in the latest edition of the popular Farm Frenzy series.