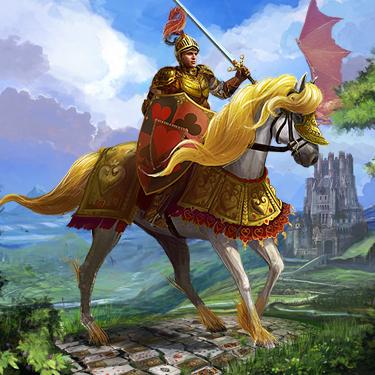 Knight Solitaire 2
You can only play this game with:
Windows 10Windows 7Windows 8Windows 8.1Windows VistaWindows XP
In Knight Solitaire 2, a heroic solitaire adventure, you need to defeat a dragon that protects an ancient kingdom's gold! Are you ready for this challenging quest?
Video & Screenshots
Play Knight Solitaire 2, a challenging solitaire game, and prove you're a brave knight once again!
Discover Knight Solitaire 2, the amazing sequel to the hit card game, and show that you're a true knight once again! This time your quest is even more challenging. It's up to you to defeat a ferocious dragon that protects the gold of an ancient kingdom. Does this sound like a job you can handle? Play your cards right, save the day, and enjoy Knight Solitaire 2 now!
prove that you're still a true knight and defeat the dragon protecting the gold
explore 12 exciting locations and play 120 challenging solitaire levels
make chains of cards, collect bonuses, and earn bonus rewards
enjoy a beautiful medieval setting, captivating music, and themed card decks